This is a Lake Powell fishing report on how we caught 197 largemouth and smallmouth bass in a few days. Included in this report are the details of the best baits for Lake Powell fishing this time of year, the conditions we experienced, and what to look for to help you know where to catch bass on Lake Powell. In addition, at the end of the post you can find a video of some of these details demonstrated in action. The goal of this report is to help you create some memories for yourself "Kraken" bass on Lake Powell.
Lake Powell Fishing Report
This Lake Powell Fishing report outlines all the things we used, and noticed to help us catch 197 largemouth and smallmouth bass. This was an incredible trip. On Lake Powell with my dad we learned a lot of new things to use to catch more fish. Some of the things outlined here might not be new to you, but they were new to me. Plus, we were able to catch on film some of the action to give you better idea of what to do on the water at Lake Powell fishing. My mission is to help you create more memories fishing with your friends and families by giving you the tools and information you need to catch a stoking boat load of bass! Enjoy the post!
Lake Powell Fishing Report – Conditions
This Lake Powell Fishing report transpired the first weekend of April on the 5th – 7th. We traveled up the San Juan river, and camped on the beach for two nights. Here are what the conditions were like for us on this trip.
Weather
Air Temperature High in the Upper 70's. Partly Cloudy Skies.
Water Temperature
55 – 60 degrees. The water temperature varied wildly throughout the lake. The warmer water areas seemed to hold more fish.
Wind
0 – 12 MPH. Over the course of the trip we had predominately calm water. Marked with occasional breezes around 12 mph.
Lake Powell Fishing Report – Best Spots for Bass
Knowing where to find the fish is the first main ingredient for being able to catch them. The warmer water holds the fish shallower than some of the other spots in the early spring.  Another thing that helped us to locate bass was finding the lightly stained water where the bass seemed to be concentrated. The majority of Lake Powell is crystal clear. The stained water can be found in the backs of the main river channels, and the canyons that have running water this time of year. The stained water warms up a little faster, and concentrates the fish. Secondary points always seem to have a bass or two to catch on them as well. The gradual 45 degree rock chunk banks along with the warm and stained water, was the secret recipe for finding bass.
Lake Powell Fishing Report – Best Baits & Techniques
It took a while to get the baits dialed in on this trip with the conditions we were experiencing. After usuing and trying several different things, the following three techniques and baits seemed to outperform all the others. Below is a description of these baits and techniques, and how we used them at different times to "Krak" those bass!
Neko Rig
The Yamamoto 5″ Neko Fat Worm in Green Pumpkin was the all-around best bait for catching fish on Lake Powell. The Yamamoto Neko Fat Worm worked best Neko Rigged with a small 1/16 oz nail weight with a wacky o-ring, and a 1/0 gamakatsu drop shot hook. Put the hook through the o-ring in the middle of the bait, and slip the nail in the head of the bait, and you are set! Check out my old post on how to fish the neko rig for more details: Neko Rigging
The key reason this technique works so well is it enables you to fish effectively in both shallow and deep water. The bass were spread from 3 feet to 15 feet, and fishing the neko rig allows you to cover that huge spectrum of water effectively. One other little thing to spice up your neko worm is add a small tip of Chartreuse Spike It to color the tail of the bait. This seems to help get a few more bites.
Float n' Fly
The ultimate Float n' Fly set up for producing fish on Lake Powell was a small line through thill slip float, with a line tie bobber stop, and a grey ghost 1/16 oz phat fly. This is a finesse technique, so a solid spinning rod and reel combo is perfect for throwing this rig. Spool your reel up with light 8 – 10 lbs braided line with about 20 – 25 feet light 6 lbs 100% flourcarbon leader. This will give you the casting distance you need to get this bait out there.
I've been experimenting with the float n' fly technique for several years, and finally feel like I have it dialed in for catching bass. This technique worked well for catching smallmouth and largemouth bass on our Lake Powell excursion. The Float n' Fly actually caught one of the biggest bass of the trip. It's an extremely fun way to fish. Make sure to check it out in action in the video below. [/one_half]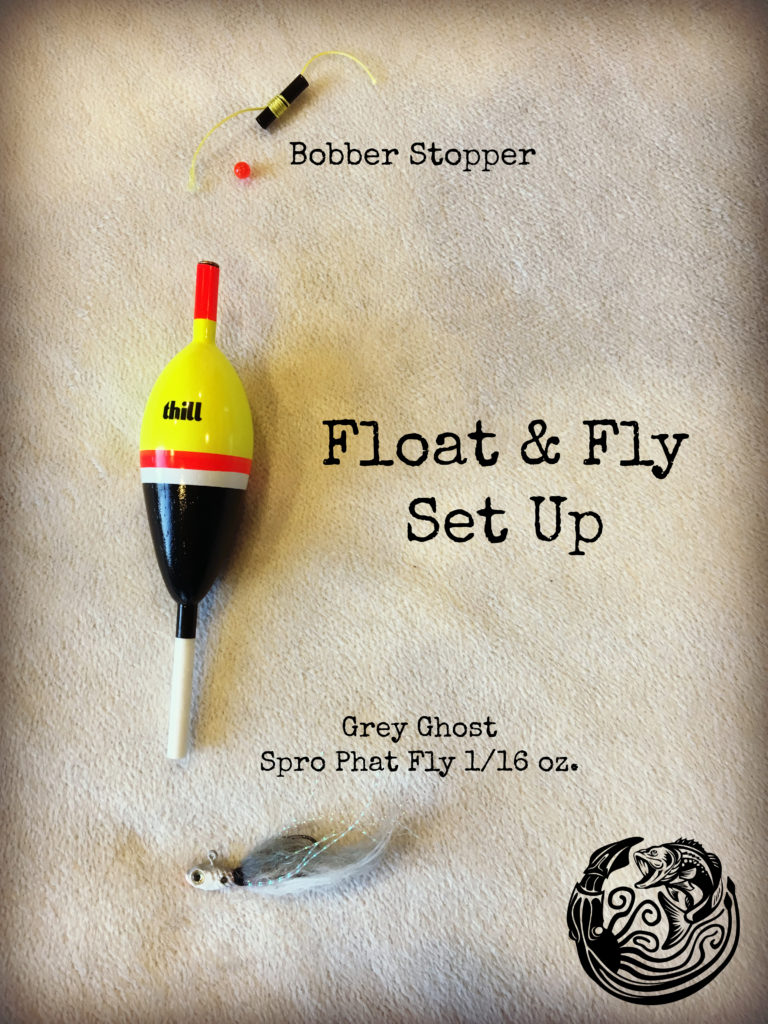 Megabass Jerkbait
The Megabass Vision 110 is awesome for Lake Powell fishing for Largemouth and Smallmouth bass. This bait is especially effective because it enables you to cover water faster, than the other baits mentioned above. The Megabass Vision 110 and the Vision 110 Plus worked equally as effective. The best colors are tennesse shad  in the clear water, but when the water is a little stained the table rock shad jerkbait seems to work better. The vision 110 is at it's prime when the wind starts blowing. A jerkbait tends to bring the bass out of the cover. Several strikes we had were right by the boat, and they were super exciting.
Throw your jerkbait on a stiffer medium heavy action rod to give it some nice rips.  Spool up with 8 – 10 lbs Flourcarbon on a high speed baitcasting reel  for casting distance and stealth so those bass don't detect your line. The majority of your strikes occur while letting the jerkbait rest. 5 seconds in between rips seemed to work best on this trip. Here's the link to check out how I like to fish a jerkbait: Jerkbait Bass Fishing. The exact bait used in that video and post was the one that worked dynamite at Lake Powell.
Lake Powell Fishing Report – Video Catching Bass
Here is some footage of these baits and techniques in action on Lake Powell fishing. Hopefully, it will give you a better perspective of where to fish, and what to use at Lake Powell to have 100 bass days like we did on the water.
Lake Powell Fishing Report – Additional Tips & Thoughts
Lake Powell bass fishing has always been good to me over the years. I've been going every spring for over 20 years with my dad. One thing I noticed was three key pieces for finding and catching bass. The first was stained water held more quality sized, and numbers of fish. The second piece to finding fish was finding warmer water. Even a few degrees warmer made a difference. Also, the north banks which face south fostered more numbers of fish. Northern shorelines warm up the fastest because they see the most sunlight, and appeared to hold more fish since this spring has been cooler than normal.
Hopefully, these insights from my Lake Powell fishing report will help you catch some bass! The links in here are affiliate links were you can pick up baits, rod's, reels, line, and anything else I use to "Krak" bass on Lake Powell. KrakenBass.com receives a small percentage of the sales through these links. I only use links to baits, and gear I personally trust and know work. The links are here to be helpful for you, and not for the small amount made on the sale of the products. Check out my products page for other stuff help you in your quest for bass: Krakenbass Products. I hope these things can help keep you "kraken" some bass like they have for me.
As Always,
Stay Stoked!!